Create Invoice Online. Send it & get paid — faster.

Well let me tell you some good news. Our friends at Servicejoy have spent countless hours programming and designing online invoicing software with you, the small business owner in mind. They want only one thing in return…for you to be less stressed. How's that for great service?
Servicejoy provides the opportunity to receive faster payments, effortlessly generate estimates and convert them into invoices. This means fewer piles of papers on your desk and being able to spend your precious time doing what you love to do.
There is a wonderful simplicity to the Servicejoy online invoicing. Once you create your Servicejoy account, you can immediately organize all your clients and start invoicing. Moments later your client will receive the invoice via email.
In our world, faster invoicing leads to faster payments. Your clients can pay invoices online or mail you the check, its solely up to you.
Not only does this make your life easier, you are also doing your clients a great service by allowing them to review their incoming bills online, track them easily, and pay them quicker.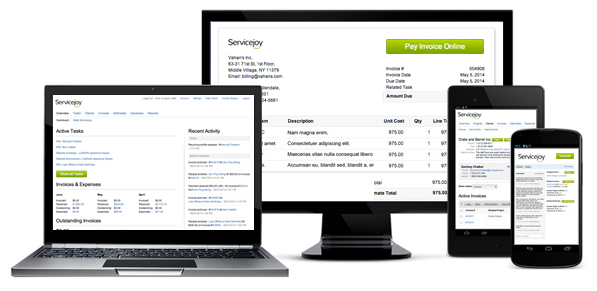 Invoice Items
Servicejoy intelligent online invoicing software allows you to add repetitive services or products in the 'New Item' area of the invoice, where you can create or modify your service/product and bill for it on the spot and re-use them in your future invoices and estimates. You are also able to adjust the cost and quantities of said items, as well as adjust the
taxes according to the specifics of your clients.
Item Descriptions
Servicejoy allows you to create a personalized description of the new item, which means you can write short ideas or messages on the invoices that make your clients feel the personalized service you are providing for them.
Invoice Discounts
Even more advantageous is the 'Discount' box, allowing you to show your appreciation to your clients by giving them a friendly price reduction by a percentage or a set amount.
Easy Access
The Servicejoy secure auto logging mechanism automatically sends you your invoice and allows you to access your invoices without ever having to log in to your account. How's that for convenience?
Invoice Tracking 
Tracking your invoices for your own record keeping is done automatically with Servicejoy. All invoices and estimates have this thing called 'Autobiography' where you and your team can see the entire history of each invoice and estimate. You can also create 'Recurring Invoices' and check your 'Payment History' at any given time.
Pay with a Simple Click
Servicejoy online payment feature gives you the power to pay your invoices with one click and never look back. Just another benefit designed with your small business in mind.
Recurring Invoices
Servicejoy supports recurring invoicing or billing. This is useful if your business needs to send invoices on a regular or a repeat basis. You can specify a schedule for a recurring invoice and Servicejoy automatically generates invoices based on this schedule.
Servicejoy Setup & Training by AVGN Systems
For Servicejoy Online Invoicing Setup & Training click here.
Small Business Bonus
Servicejoy is FREE to businesses having 5 clients or less, so if this is you, then why not take the Servicejoy plunge right now?
Why stress about creating and keeping track of your invoices when Servicejoy has already worked hard to make your life easier.
Try Servicejoy today, and start spending your time on things you love to do!