Search Engine Optimization & Website SEO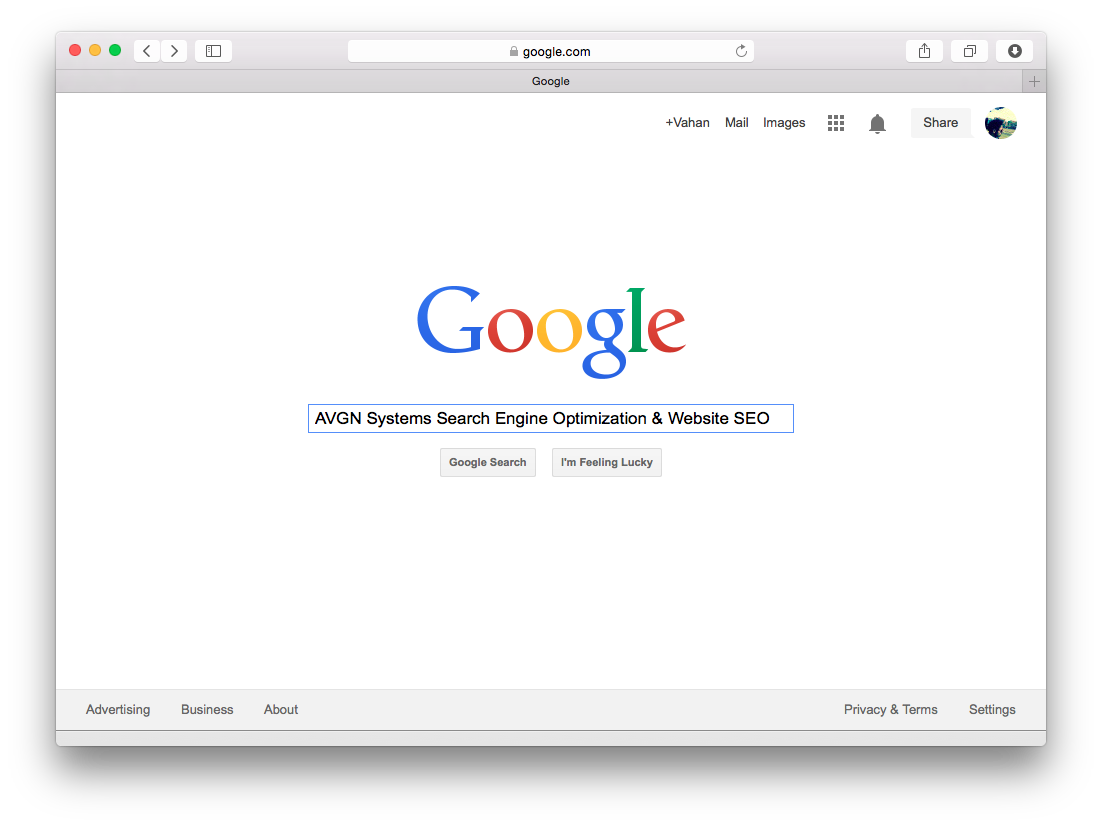 Concerned your website isn't performing?
AVGN Systems offers proven techniques to rank on page 1.
Looking for conversions not just traffic?
We know online sales and leads are all that matters.
An in-house team for superior results.
All SEO strategies are planned and implemented in-house for a cohesive approach. Work with a true digital marketing team.
Marketing your website through search engine optimization (SEO) is just as important as the way your website looks and functions. SEO can have a major positive impact on your business, and it's important to choose a professional search marketing firm that can provide results. Whether your needs are in lead generation SEO or website SEO, AVGN Systems is experienced in creating successful organic search marketing campaigns.
We believe that building a website without SEO is like writing a book without publishing it. No one will find it or buy it. Your website is a great marketing tool and was an investment in and of itself, but it must be made readily available to potential customers. AVGN Systems' search engine optimization services, otherwise known as SEO, will help your website to be displayed toward the top of the organic search results for the keywords most important to your specific business. We also specialize in website design & SEO for customers looking to market their services, products and online stores.
Our SEO Plans Help Your Site

Be Found by Potential Customers
Rank Page 1 On Google
Convert Traffic into Customers
Increase Sales
Grow Business Organically
Become More Profitable
Increase Visitor Time On-Site
& More
Our SEO plans come with:

– Keyword Research
– Robots.txt Optimization
– Images SEO Optimization
– H1-H2 Header Tags Optimization
– Meta-Title Tags Optimization
– Meta-Description Tags Optimization
– Text Optimization Suggestions
– Relevant Yahoo Answers
– Relevant Blogs Commenting
– Website Analytics Report
– Social Analytics Report
– Competitors Analysis Report
– Directories Backlinks Report
– Articles Backlinks Report
– On-Page Optimization Report
– Directory Submission Report
– Google Webmaster Tools Registration
– Google Analytics Registration
– Initial website consultation
– Keyword research
– Alteration of meta data
– Modification of internal text links
– Alteration of robot tags
– Creation of sitemap
Rank Across All Major Search Engines
While Google is our main focus, we do focus on ranking your website across all major search engines.
SEO Friendly Development: Search Engine Friendly Web Design & Website Development
All of AVGN Systems's websites are developed "search engine friendly" using the latest SEO standards and white hat SEO techniques. Although you may not receive first page rankings on major keywords without on-going search optimization, a search engine friendly website is the first step in the SEO process. If you're in need of a new website, allow AVGN Systems to design and develop your professional website with search engine rankings in mind.
Search Engine Friendly Elements Include:

– Proper H1 placement
– Proper ALT tag placement
– Tabless CSS code
– External CSS
– External Javascript
– Optimized files for load speed
– Search engine friendly URL's
– & more
Monthly Reporting: Action Reports & Statistics to Prove SEO is Working
At AVGN Systems we provide you with monthly reports that outline each task that was completed, what was updated and what updates we plan to complete in the future. Below is a full list of all items that appear in our monthly marketing report.
Monthly Overview
This overview allows you to quickly see traffic, conversions and other main points compared to the previous month or year.
Action Report
This includes the details of what was completed. The outline provides details of all updates completed to improve your search engine placement.
Traffic Statistics
How many visitors came to your website and how they got there. Determine what content works and what content doesn't.
Google™ Statistics
How many people visited your website from Google™ and the value of your Google™ traffic.
Yahoo!® Statistics
How many people visited your website from Yahoo!® and the value of your Yahoo!® traffic.
Conversion Rates
What percent of visitors placed an order, contacted you, or ended up becoming a lead.
Keyword Traffic Report
Which keywords brought your website the most traffic and are converting into leads and / or sales.
Referring Websites
Which website refereed you traffic, how many visits and amount in sales.
Search Engine Placement
What keywords are up, which are down, and by how many positions in each search engine.
SEO
FAQ'S
Why Is Search Engine Optimization (SEO) Important?
Think of it this way. A web site is your business' ad, and before your ad can be effective, you have to send it out. By performing search engine optimization on your website you will allow web surfers to find your site and see what your business has to offer. An outstanding website is great to have, but not if potential customers can't find it!
How Do You Perform Search Engine Optimization?
There are many ways we work to boost your rankings. We must first research your businesses market and develop a marketing strategy. We work to find the best keywords for your business and use these keywords in the sections of your website most viewed by search engines. We also build the infrastructure of your website in a way that helps search engines easily detect and list all of your pages. We'll also work with you to create web partners. Relevant websites that link back to your website brings your sites credibility up.
How Long Does It Take To Receive Quality Search Engine Rankings?
The time can vary for a search engine to see the updates we make to optimize your website. There are many variables, and these can also vary based on the search engine. We'll keep you up-to-date on the progress of your search engine rankings by providing you with reports on a regular basis. The timeline for results also depends on many website factors such as domain age, amount of content, current rankings and more.